Tungsten Inlay
"Wood Inlay Tungsten Rings are designed to be completely water and detergent safe. With the strength and durability of Tungsten and protective coating applied over the inlay, your ring is made to withstand many years of wear. It is highly recommended that you remove your ring when working with acetone-based chemicals as it may affect your jewelry."
Material: Men's Women's Tungsten Carbide
Finish: Polished Finish
Plating: Black - Koa Wood - Imitation Opal
Shape: Domed
Thickness: 2.3-2.5mm
Width: 8mm
Size: All half sizes
Material: Tungsten Carbide
Finish: Brushed & polished shiny
Plating: No plating - Imitation Opal Inlay
Shape: Beveled edges
Thickness: 2.3-2.5mm
Width: 8mm
Stone: No stone used
If you need a size we do not carry in your ring add this and type size in Order Notes at check out. Tungsten rings only come in 1/2 sizes.
Material: Men's Women's Tungsten Carbide
Finish: Polished Finish
Plating: Black Plated, Black & Red Fiber Inlay
Shape: Beveled Edges
Thickness: 2.3-2.5mm
Width: 8mm
Size:6-15
Stone: No Stone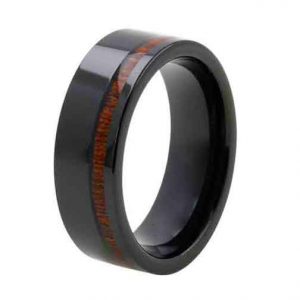 Material: Tungsten Carbide - Wood Inlay
Finish: Polished finish
Color:  Black - offset Line
Thickness: 2.0-2.2mm
Width: 8mm
Stone: No stone used